SELF STORAGE SERVICESProviding outstanding storage service is our business.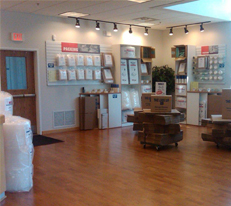 You need to store... and there are many things to consider. The bottom line is peace of mind. You want to feel good about the secure self storage facility where you store your things. Since 1976, The Lock Up Self Storage has been offering state-of-the-art storage facilities and providing outstanding storage service to our customers. And our self storage prices are second-to-none.
We offer many self storage discounts and special offers including a free move-in truck with every new lease! When you reserve a storage unit at The Lock Up, we'll supply you with your own truck, to make your self storage experience as pleasant and convenient as possible. Call us today at 1-866-327-LOCK and ask about how easy The Lock Up can make your move!
From the ground up, our state-of-the-art self storage facilities offer security-controlled gate access, motion-sensitive lighting and 24 hour camera monitoring, we've gone to great lengths to ensure the safety and security of your belongings. We even offer commercial self storage for businesses with storage space needs.
So whether you are looking to reclaim lost closet space, or are relocating to a new home, The Lock Up Self Storage is your one-stop self storage solution. We invite you to contact one of our self storage facilities today and see for yourself The Lock Up Difference.
Moving Storage Supplies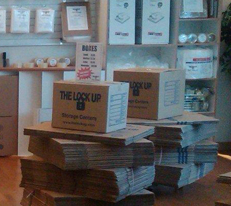 The Lock Up Self Storage offers the best prices on moving storage boxes and supplies to ensure your move is as easy as possible. Our Lock Up Managers are some of the most experienced in the industry and are here to assist you through every step of the moving storage process. From packing materials to wardrobe boxes — The Lock Up is your one-stop storage solution. We Make Your Move Easy!
Supply List: Bubble Wrap, Newsprint, Box Cutter, Packing Tape, Gloves, Mattress & Furniture Covers, Labels & Markers
Boxes: Small Box 16x12x12, Medium Box 18x18x18, Large Box 24x18x18, Wardrobe, Dish pack, Picture/Mirror, Mattress & Furniture, Covers, Labels & Markers
Free Move-in Truck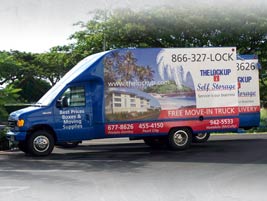 The Lock Up has moving trucks and free locks available at all of our self storage facilities. As a service to our clients, we've made moving trucks free with every new self storage unit rental. Utilization of the move-in truck is subject to reservation and self storage location. Please contact a store manager at the self storage facility nearest to you and find out more about FREE use of truck and our great pricing and amenities.