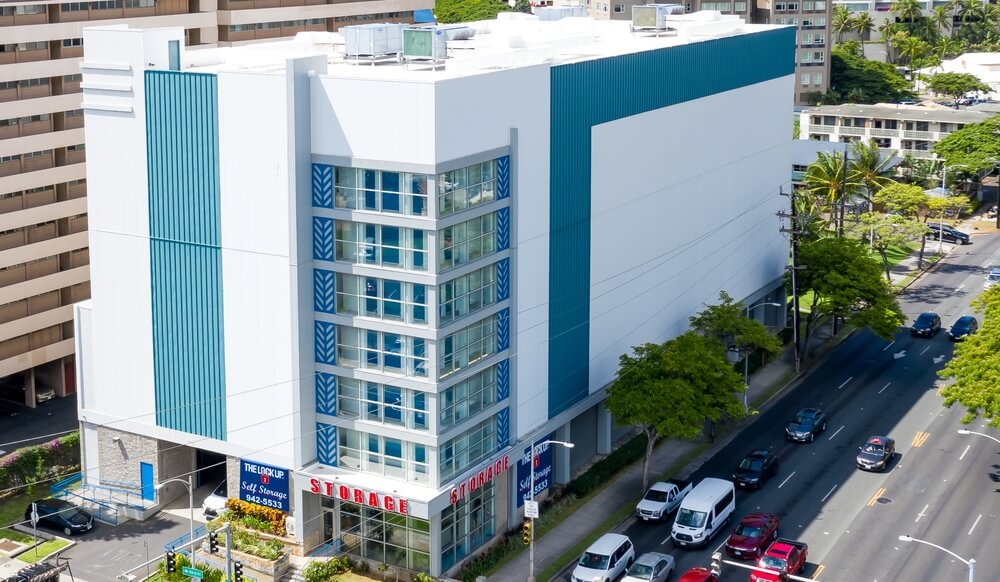 Hawaii - Honolulu Self Storage
OFFICE MON-FRI 8:00-6:00 SAT 9:00-5:00 SUN 9:00-2:00 ACCESS 5AM-11PM
Rent on line and save up to 15% on Honolulu self storage!

Honolulu Storage Unit Features:
Carpeted Hallways and Secure Self Storage Units
Climate Controlled Interior and Drive-Up Storage Units
Electronic Coded Access
Full Size Passenger Elevator
Indoor Loading Bay
Motion Sensitive Lighting
Security Camera Monitoring
The Lock Up's Hawaii self storage facilities are designed to provide clients with the best overall storage experience. All facilities feature the latest amenities and security features, and Store Managers are willing to answer questions and give self storage advice. Call us at 1-866-327-LOCK to learn more about our self storage in Honolulu and self storage prices.
More about our Honolulu self storage facilities
Our storage units are conveniently located at the gateway to Waikiki Beach, The Lock Up Self Storage Facility in Honolulu is located at 1901 Kapiolani Blvd. at the corner of Kapiolani and McCully. We're also located close by and happy to serve the Waikiki, Halawa, Kaimuki, Kalihi Valley, Manoa, Palolo, Makiki, Aiea, Waimalu, Pearl City and Waipahu communities.Our brand new state of the art Waikiki self storage facility has an interior drive in loading and unloading area, carpeted hallways and self storage units, 24 hour security surveillance, climate controlled building, extended access hours and the best pricing on all your moving supplies. We have a variety of self storage units ranging in sizes to fit a surf board to a unit large enough to hold the contents of a large home!
Our friendly, customer service oriented Storage Managers are available in the office seven days a week for your convenience. Please call us at 808-942-5533 or stop in for a free tour of our self storage facility – come experience the LOCK UP difference.
Serving the local zip codes: 96801,96802,96803,96804,96805,96806,96807,96808,96809,96810,96811,96812,96813,96814,96815,96816,96817,
96818,96819,96820,96821,96822,96823,96824,96825,96826,96828,96830,96836,96837,96838,96839,96840,96841,
96843,96844,96846,96847,96848,96849,96850
" I wish to express my elltreme and sincere pleasure in having conducted business with The Lock Up Self Storage located at 1901 Kapiolani Blvd. Honolulu, Hawaii. From the first moment I entered this establishment through my final visit, the management and staff has treated me with courtesy, respect, and enthusiasm. They have been most helpful, and I will gladly pass on my recommendations to any and all my friends and assodates. Thank you for a hassle free rental experience. "
- Testimonial for our HonoluluSelf Storage location in Hawaii
Rating: 5.0
" Dear Kevin, Royal and Staff. I wanted to say how great you are! I know moving is always a stressful situation, however this move was particularly hard for us. The ONLY easy part of the whole move was the storage. No kidding, you were simply the BEST. I felt like I got a great unit. From start to finish I was treated like I mattered. Great service and I wouldn't go anywhere else. Sincerely, Gina Manolakis "
- Testimonial for our HonoluluSelf Storage location in Hawaii
Rating: 5.0
" Just wanted to let "The Lock Up" organization know that your Honolulu Location: 1901 Kapiolani BLVD is a Professional Team. The manager and staff are quick and efficient with a pleasant demeanor. I thank the entire team for making my experience worry free. I would recommend the Kapiolani location to any future clients / associates. "
- Testimonial for our HonoluluSelf Storage location in Hawaii
Rating: 5.0