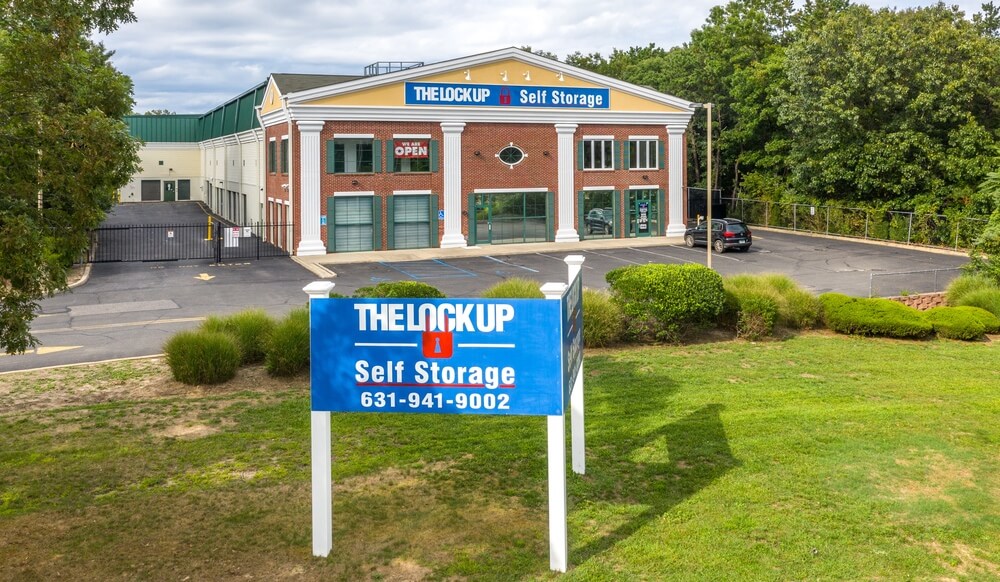 New York - East Setauket Self Storage
OFFICE MON-FRI 9-5; SAT 9-4; SUN 10-2; ACCESS 6:00 AM-10:00 PM
Save up to 20% on Setauket Self Storage when you rent on line!

East Setauket Self Storage Unit Features:
Climate Controlled Facility and Drive-Up Self Storage Units
Electronic Coded Access
Full Size Passenger Elevator
Security Camera Monitoring
The Lock Up's New York self storage facility was designed to provide clients with the safest, most convenient storage units in the state. Our East Setauket self storage facility features top security measures like 24-hour video surveillance, motion-sensitive lighting and electronic coded access. Call us at 1-866-327-LOCK to learn more about current specials and available units at our East Setauket storage center.
Share your review of our East Setauket self storage location on Yelp or Google Places!
More about our East Setauket self storage facilities
Are your closets too full? Is it time to de-clutter and reclaim your garage for your car? The Lock Up East Setauket Self Storage Units can help you! We are located at 380 Mark Tree Road in the village of Setauket on the North Shore of Long Island in central Suffolk County and is part of Brookhaven's Three Village area
We have storage units for both the household and business customer and offer a wide range of storage unit sizes to accommodate each individual's storage needs ranging from 5x5 (25 square feet) to 10 x 30 (300 square feet), climate- controlled and drive-up units are available, which will help protect your items from extreme temperatures during a Long Island Winter!
Whether you are a Sales Representative or a Stony Brook College Student (we are closest storage facility to Stony Brook University) we are sure that your best choice for quality self storage centers at an affordable price is The Lock Up's Setauket self Storage Center.
Our business office is open seven days a week – Monday through Saturday, 9 a.m. to 6 p.m. and Sunday 10 a.m. to 2 p.m. Access is from 6 a.m. to 10 p.m. 365 days a year.
Call (631) 941-9002 to learn about our GREAT move-in specials, moving supplies and our FREE MOVE-IN TRUCK!
" To Whom It May Concern: 10 OUT OF 10! That is how my daughter and I would rate our experience with April and Craig at your Setauket, New York location. Four words come to our mind when describing this establishment: CLEAN, PHENOMENAL, POLITE, and most of all PROFESSIONAL. Also, please rest assured if and when any of our family members or friends are in need of storage we will recommend this great staff and company. Sincerely, Margaret and Carmel O. Unit #1254 "
- Testimonial for our East SetauketSelf Storage location in New York
Rating: 5.0